2016 - 7th Annual WIBSA Meeting
Tuesday, June 27th at the Holiday Inn Madison at the American Center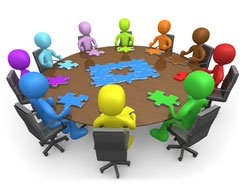 WIBSA members who attended the annual meeting reviewed WIBSA's goals for
2016-17 and 2017-18. An annual report was distributed to members to provide information on membership demographics, financials for the association, and other accomplishments. A vote to update the bylaws was held, and changes were approved.
This year's annual meeting included training and discussions on Special Status Medicaid, Working with DVR, Benefits & Advocacy, Benefits Trivia, and the ongoing needs of WIBSA and its committees. 
2016-2017 Annual Report
2016-17 Annual Report_Final Version for
Adobe Acrobat Document
931.9 KB
Special Status Medicaid
Presentation by Stephanie Drum that includes definitions of Special Status Medicaid programs, and how to apply them to individuals seeking additional income from employment.
Special Status PowerPoint_Stephanie Drum
Adobe Acrobat Document
1.1 MB
DVR and WIBSA
Presentation by Lela Yang and Gina Haupt about how Work Incentive Benefit Specialists can successfully work with DVR to support the employment goals of individuals with disabilities.
DVR_WIBSA Presentation.pdf
Adobe Acrobat Document
643.1 KB
Benefits & Advocacy
Presentation by Erica Moutsopoulos and Ethan Hayes about how to advocate, and how to encourage self-advocacy for individuals with disabilities.
Benefits and Advocacy Presentation.pdf
Adobe Acrobat Document
599.5 KB