Work Incentives Benefit Specialist Association - WIBSA
Welcome to the Wisconsin Work Incentives Benefit Specialist Association (WIBSA) website!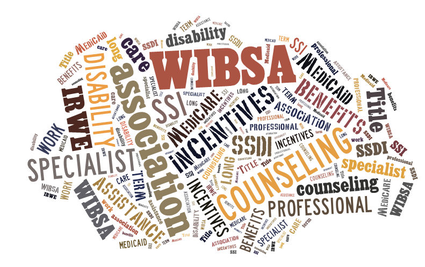 Work Incentives Benefit Specialists (WIBS) assist people with disabilities by helping them wade through the complexities to make informed choices about the impact of work on their benefits. WIBS can provide a written and oral analysis of a person's services and benefits and how work will change their cash payments, medical coverage, and continued eligibility.
If you have a disability, you should contact a WIBS when:
You are considering work for the first time or re-entering the workforce.

Your earnings change or increase.

You are developing a career plan or actively job seeking.

You have questions, concerns, or problems with current benefits.
How to access services:
For more information about contacting a WIBS in your area:
Contact Your Local WIPA Provider

Talk to Your DVR counselor

Contact Your Local Independent Living Center

Ask Your School Transition Coordinator
More about the Wisconsin Work Incentives Benefits Specialist Association:
The mission of the Wisconsin Work Incentives Benefit Specialist Association (WIBSA) is to support and promote high quality work incentives benefits counseling services for all people with disabilities through:
Promoting and upholding statewide standards

Encouraging training and professional development

Advocating for systems change at the state and federal levels